The wife - Episode 35
See all episodes here »
Gasps and look of pure shock was all Nathan said as he walked up to his office. The surprised looks of his workers were funny at first but with him receiving it everywhere, it was becoming disturbing. It was almost like no one wanted him back. He wasn't the most social but at least they could pretend to care. Nathan got over their stares, focused on getting to his office . He adjusted his black three-piece suit and unlocked the knob to his office. The place was just like how it left it Except for the position of his office chair. Nathan wasn't a fan of that check so he tried to change it himself. At that moment, someone knocked on the door before opening, A woman in her mid-twenties walked in, caramel-skinned and very lanky, the model body structure. "Good morning Mr. Tocci, I'm the new secretary" she informed in a professional voice. "Good. I'd like to have an appointment with the top workers in ten minutes' time. The conference room." "Ok, Mr. Tocci. I'll get right at that." Then she walked out but returned to say the customary ' welcome back '. Nathan smiled and she walked out again. Nathan spent his free time drinking a cup of coffee before heading to the conference room.
"Welcome back Mr Tocci." The workers greeted like barbarians when he came in. About time
All episodes of this story can be found here >> https://www.ebonystory.com/story/the-wife
. Nathan took his place at the front row of the magnificent desk. "Well, I called you here to announce that I was back, 'obviously' and to get any recent projects we might in presently." "We've begun a furniture line," Rodriguez replied. The rest nodded affirmatively. "Really? That's nice. How's it going?" Nathan quizzed further. "Well, it's better I show you. We store the planks at a newly erected shed here." Rodriguez responded. "Ok. Can I see it now?" "Sure," Rodriguez affirmed. The new shed was erected behind Tower where the ugly metal scrap could not be an eyesore. Nathan monitored the hardworking menial laborers take the planks into the shed. "This is great Rod. I hope it works out." Nathan said. "It will Nathan. I know it will." Rodriguez chipped in. Rodriguez received a phone call and he excused himself to pick it leaving Nathan on his own. Nathan continued watching the menial workers do their job until he felt something rough hit his head lightly. He turned to face the careless worker. The man was apologetic and even feared losing his job as he pleaded profusely. "I'm so sorry... You!" Nathan immediately knew who he was. "You're Ema's Dad aren't you?" "Yes." The man replied. "Where is Ema?" Nathan inquired, pressing his hand softly at the spot the planks hit. "She didn't come." Mr Contreras replied, avoiding Nathan's gaze. Nathan was a businessman and he knew when his workers were lying. "Ok. You're fired." "What! Why? I did nothing wrong." The man said, defending himself. Nathan smiled, enjoying his misery. "Yes. You need nothing wrong. You just tried to kill me." "But...You're only doing this to get back at me..." The man trailed off. Their talk was beginning to attract eyes. "Yes, Mr Contreras. It's the least I can do for trying to hide Ema....oh! I mean Adriana." "How many times will we tell you until you get that she's not your wife, You can keep your job for all I care." Mr Contreras walked back to his truck, just what Nathan wanted. He took a picture of the vehicle plate and followed Mr. Contreras. He wasn't done yet. "What do you want?" Mr Contreras demanded when he discovered he was being followed. "I just wanted to give you your pay. Am I wrong?" The grunt the man gave was satisfying for Nathan. "You must be thinking, if only She was here, maybe she could change my mind." The man ignored Nathan and started the car before zooming off.
***
Ema searched for her father amongst the other workers. He was nowhere to be found. She walked up to where he left the truck but both he and his truck were gone. What in the world would he leave her all alone? A funky honk caught her attention and she turned to where the familiar honk came from. She recognized the white truck and walked up to it. "Why did you move Dad?" Ema quizzed. She noticed he was too quiet and his smile was gone. "Are you ok?" "Yes. Let's just go." "What about the planks? We haven't offloaded all of them." "We don't need to. I've been fired." The Revelation was more like a stun to Ema. "What! Why?" "Don't worry about it, let's just go home." Mr Contreras insisted. "No Dad. Not until you tell me what happened?" Ema retorted, having none of her father's prom and proper nature. He didn't answer. He just stared at Ema. "Ok, If you won't tell me, then I'll find out myself," Ema stated and walked out of her father, heading for Tower. "Hello, I'd like to see your boss," Ema said politely, despite burning inside. The secretary stared at her face downwards before saying, "I'm sorry but do you have an appointment?" "Just call your freaking boss outside!" Ema snapped. Some workers stopped to steal looks at her with some muttering about how much she looked like someone's wife. Holy sh*t! He owned this place. Ema fixed the missing piece almost immediately. She has initially thought Rodriguez ran the company but with the whispers around her it was none other than... Nathan! "Can I help you miss?" A masculine voice said behind her and she turned back to see him. Devil's incarnate. "Is anything the problem?" Nathan inquired, looking every inch an angel. Ema could see for herself why most of them fell. "You fired my father and for no reason." "Calm down Miss." "My name is Ema!" She retorted.

Read " Demigods(book one) " by the same author ( samuelade. )

. "I'm sorry I can't call you what you aren't Adriana. Miss would do just fine." Ema shook her head in frustration. Here he was acting all prim and proper making her look stupid and immature. "If you want to talk, you can join me in my office." "Then let's go." "So why are you here?" Nathan inquired when they got to his office. "You fired my father and I want to know why," Ema demanded, refusing to take her seat. "For starters, he lied, he said you weren't around and he tried to kill me." Nathan defended. "Unbelievable, can you just give him his job back?" "Why? Are you willing to pay the price?" "What price? I pretend to be your wife?" Ema quizzed. "Caution your tongue, Adriana." "And I don't want you to pretend to be anyone, I just want us to have a date." "What!..." The telephone beeped interrupting Nathan and Ema's talk, "Mr. Tocci, Mr Contreras I here to see you." "You see Adriana, he's trying to cut is apart again because he's hiding something," Nathan said. "Keep him waiting," Nathan said to the telephone then turned to Ema, "So what is it going to be? No...or yes?" "If I go on this date, my Dad will get his job back and if it fails to do whatever you think it will do, You drop this madness." "I give you my word Adriana." "I accept." Nathan smirked. If he was going to make Adriana remember anything, he would have to recreate the day they met.
(sorry for the late updates)
Oil Company Scholarships
Shell Nigeria Scholarship Awards/NNPC/SNEPCo National University Scholarship 2019 NNPC/Eroton JV Undergraduate Scholarship Scheme 2019-2020 PTDF Scholarship - All you need to know 20 How To Study Abroad Frequently Asked Questions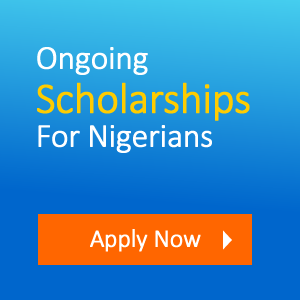 Ebonystory.com
Views (899)
Likes (3)
Comments (3)
Rating (3)