To Live For Once (Set Me Free II) - Episode 51
See all episodes here »
N-Power 2020 Registration (Batch C) - How you can apply
Epilogue

Rory:

"Do you take this woman to be your wedded wife. In sickness and in health. In sorrow and in happiness. Till death do you part?" William asks with a goofy grin on his face.
"I do." I say without breaking eye contact with my beautiful bride. She's radiant in her stunning dress as the sun on the beach reflect on her tiara
N-Power 2020 Registration (Batch C) - How you can apply

. A bead of tear hang on the side of her eye. I brush it off with the pad of my thumb while William repeats the vows for Amaya to answer. She visibly sniff back tears before answering.
"I do." She says with all conviction. My heart skip several beats when she winks at me. I make a flair of grabbing my heart dramatically and she giggles. It sounds like heaven to my ears. It's been a few months since Jessica nearly took her from me and those few months weren't easy. Mostly on Amaya. First it was being in a coma for a few weeks. Then the fact that the doctors had to take our baby out of her to save her life was the hardest hurdle we had to cross. She was inconsolable to the point that I almost lost my mind worrying about her but we got through it. I did everything I could to bring back her smiles. I stopped going to work just to stay with her
All episodes of this story can be found here >> https://www.ebonystory.com/story/to-live-for-once-set-me-free-ii
. I cooked. I washed and I bathed her.
It took a month until her father showed up. Yes, he was a hard man but when he saw his daughter in a wheelchair and suffering, he did something I'll always be grateful for. He took Amaya out to her mother's grave.
That had been the break through. Mr Gabriel cried that night along with all of us. Amaya was reminded that life had to go on. She was alive unlike her mother and had the chance to create happiness. That was a bittersweet day.
"You may now kiss your bride." William's voice cut into my far thoughts. This time, it's Amaya's turn to brush the stray tear from my eyes. I catch me Gabriel wiping his eyes dry and I pretend not to.
"I love you so much." I say through the thickness in my throat. I got another smile from Amaya.
"I love you more." She says.
"Impossible." I pull her towards me and seal our lips. It felt like the first time she'd assaulted my lips on the street. A stranger she was back then but right now, she's my life. I can't stop the tears as I indulge in the sweet caress of her soft lips.
I only come out for air when the small crowd at our wedding goes wild with cheers.

Read " Beautiful Mask " by the same author ( Ameh juliet )

. Of course, Michelle is the biggest cheerleader. She's swollen with pregnancy but that does not stop her. She's a woman full of so much energy. A real work. I smile fondly at William who winks at me.
"I better get her to shut up." He says and make for his wife.
"Here we go again." Amaya giggles beside me as Michelle meet her husband half way and pull him down for a kiss that really shouldn't be for public eyes.
"Daddy!" William's daughter squeals from the front row and Prudy quickly put a hand over her innocent eyes. Aurora isn't having any of it as she fights to see her parents suck face in public. I pretend to barf and Amaya slap my shoulder playfully.
"Someone's feeling left out." I tease.
"I'm not!" She pouts but a faint blush color her cheeks. I pull her up to my chest.
"I was talking about me. I need some loving too." I say.
"As his majesty pleases." Amaya says smugly. Her lips brush mine playfully.
"No teasing." I hold her head steady and plunder her mouth. There are much cheers from the crowd.
We'll be needing a room ASAP.
N-Power 2020 Registration (Batch C) - How you can apply
Wants to study abroad? Checkout this ongoing international scholarships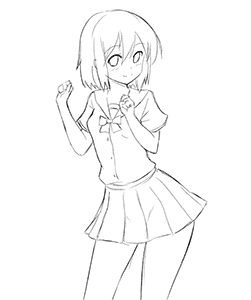 Thank you for reading this story to the end. Am sure you enjoyed it. Please support us by sharing this story to your friends. Someone had probably shared this story to you and that was why you had the opportunity to read it too. Lets continue the cycle. Just one share from you can make us grow bigger. Please don't go without sharing.
Other interesting stories by the same author (

Ameh juliet

) ↓
Ebonystory.com
Views (2880)
Likes (12)
Comments (13)
Rating (4.78)