Forgetting You - Episode 28
See all episodes here »
*** HAILEY'S POV
"Jason!! Jason!! Son!!"
The excited voice brings me back to reality.
I sigh and run my fingers over the smooth pendant on the necklace.
This is the first real gift anyone has ever given to me, as a sign of promise.
I sigh again.
It's been two hours since he left and he hasn't called.. Blast! I don't even have a phone to begin with.
"Jason I have good news! Your si. . Oh it's you"
I turn at the sound of the voice.
Mrs Michaels is staring at me. Blast! I'm seated on her sons bed.
I get up immediately and move back.
"Where's my son?"
She asks moving her eyes around the room.
"He left. He said he'll be back"
"Did he tell you where he was going?"
She asks and I shake my head.
"Oh"
her face falls and I'm left wondering what good news she wanted to give him.
She turns to leave but then as if on second thoughts, she stops, turns and walks to the bed.
"Sit"
she tells me patting the space beside her. I reluctantly do so..
"So about Jason"
she begins giving me a certain look and I blush looking away instantly.
"He's your friend right?"
She asks and I nod without meeting her eye for eye.
I can't, with my cheeks burning like this.
Especially after what we did while she was away right on the bed she was currently sitting on.
"Hmm.
All episodes of this story can be found here >> https://www.ebonystory.com/story/forgetting-you
. Is that all there is? Friendship?"
She inquires further and I'm starting to feel her intuitions are at work.
I nod again and bite my lip.
"He likes you" she deadpans and my head snaps in her direction.
"What?"
I croak out
"My son. He likes you. You may deny it all you want but I've noticed how he stares at you. And you like him too"
I look away immediately.
"No ma'am. You.. You got it all wrong"
"If so then why do you keep blushing anytime I mention his name? Why can't you look me in the eye and answer me? That necklace on your neck. Do you know how precious it is to him? My son never took it off, not for a second. But without blinking, he gave it you"
her eyes rests on the necklace.
"Ma'am I.. I.."
I trail off, completely at a loss for words.
"You're a good girl and very unhappy too. I can see it in your eyes. You barely smile. You don't talk much. My son likes you a lot, even though he's stupid enough not to admit it, I'm his mother and I can see right through him. His eyes light up when you're around him. And that's why I just want to tell you to give up your demons and embrace my son. You make him happy. I know it. Let it be so. My son never brought any of his female friends home, not even for breakfast or dinner talk less of letting them spend the night. But with you, he let you stay here without batting an eye. You make Jason happy and whatever makes my son happy, I have no qualms about it. The rest is up to you Hailey. Think about it"
she says and then gets up.
"And oh,Theresa will be here soon. I'll be picking her up at the airport at 1:00 pm. Just in case Jason contacts you first, let him know"
she adds and walks out.. I collapse onto the bed, thinking about what she just told me.
Jason liked me.
Me? Why me? Oh I don't know. What about me? Do I like him? Definitely yes.. But do I love him? No idea.. Even if I do love him, can I be with him in peace, without worrying about his safety?.
Definitely not. I rub my chest where my heart feels like it's aching badly.
I can't. I just can't.
****
"This is absurd? Totally ridiculous! I won't help you Jason. I won't put your life at risk. It's against my work ethics!"
Doctor Frank shouts, springing up from the couch.. Jason follows suit.
"Please Frank." Frank stares at him, anger boling inside of him.
"You're an idiot! I won't help you. No! Why are you doing this?! Why?!"
"For the woman I love. For the woman I've loved my entire life. For the woman who's never known what happiness or freedom is."
Jason replies cooly and Frank sinks back into his seat..
"You love her that much to be willing to put your life at risk?"
"That's what love is about. Sacrifices. She's been living in bondage for years now Frank. She's got no one. She's an orphan. What will be the essence of my love if I can't help her? Tell me Frank?"
Frank sighs.
"Who's keeping her in bondage Jason?".
"All I know is he's a dangerous drug Lord. She's even scared to talk about him. You get me Frank? Help a friend yeah?"
Jason pleads and Frank sighs again.
"Okay fine. But I'll have to run a few tests on you to know if you're allergic to any of the chemicals used in preparing the Adenosine. I'll also have to educate you on the side effects of this drug. Come let's go"
Frank picks up his overall from the couch and swings it over his briefcase.
"Thank you. Really, thank you"
Jason sighs in relief as he follows his friend out.
****
"12:20? Oh God! I have only forty minutes to reach the airport! Christ! Theresa!"
Mrs Michaels screams dropping the spatula. We were in the kitchen baking a cake.
I'm guessing it's for the Theresa girl who would be touching down at the airport anytime soon.
The cake was already in the oven and Olivia as always, sat on the tiled floor, busily bathing herself with flour.
"Theresa?"
I ask and she nods without looking at me as she hurriedly takes off her apron..
"My daughter. Jason's younger sister. She's arriving in Ghana today and I'm supposed to be at the airport and.."
She trails off when we hear the main door open, a female voice yelling..
"Where's everybody?!! Mother!! Father!! Brother!!!"
The cheerful voice keeps talking.

Read " Two Faced Lover " by the same author ( eliza )

. Brother? Could it be...
"Theresa? She's here? Already? Impossible!"
Mrs Michaels throws her apron away and rushes into the living room.
I follow soon and I'm met with mother hugging daughter.
"You little brat! You tricked me. You told me the plane will arrive at 1:00"
The Lady who's back was turned towards me grins, I guess.
"I wanted to surprise you all. And it worked!"
She laughs.
I couldn't help but notice she had dyed her hair red.
"Where's grumpy ol' dad? And my brother?".
"Don't let your father hear you calling him that. He's at the office and your brother, well he's out. But he'll be back soon"
"It's been five years mom. I've missed you all so very much. Especially grumpy dad"
she says and they both laugh, hugging one more time.
"Come in Theresa. The servants will take care of your luggage"
"Hmmm.. This place smells good"
she sniffs..
"Oh, we were baking a cake and some pastries for you"
"We?"
"Yes oh! Your brother's friend. Hailey meet my youngest daughter,Theresa"
I plaster the most biggest smile on my face, ready to welcome her but then when she turns and I see her face, shock runs through my spine and the plate of unbaked pastries slip from my hands, shattering on the tiled floor.. This can't be.
Theresa's eyes meet mine just then and her eyes grows wide instantly with shock.
She gasps as her cell phone and handbag both slip from her hands to the floor.
We stare at each other.
Oil Company Scholarships
Shell Nigeria Scholarship Awards/NNPC/SNEPCo National University Scholarship 2019 NNPC/Eroton JV Undergraduate Scholarship Scheme 2019-2020 PTDF Scholarship - All you need to know 20 How To Study Abroad Frequently Asked Questions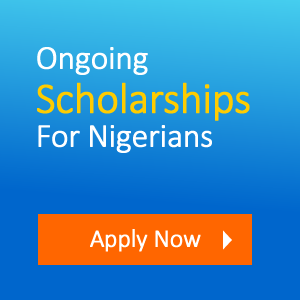 Ebonystory.com
Views (3158)
Likes (16)
Comments (30)
Rating (4.56)