Forgetting You - Episode 20
See all episodes here »
*** HAILEY'S POV
I watch as Jason disengage himself from the everly clingy Lady, aka Sarah, aka Madeleine.
Instinctively, I step back so Jason doesn't bump into me.
He looks uncomfortable as he watched her talk on and on about God knows what, occasionally touching his biceps on purpose.
I clench my fists, fuming as I hide behind Jason.
Thank God Jason is so tall and bulky like hulk and I'm almost invisible behind him.
How dare she? How dare she flirt with my man.. My eyes widen at my thoughts.
My man? Since when did Jason become my man? I feel my cheeks instantly redden at the thought.
"Oh Jason . You've been avoiding me lately. Did I do something wrong?"
She pouts, giving him a poker face.. I fume.
That b-tch! Manipulator.
Liar.
Two faced snake.
Jason folds his arms, raising his eyebrows at her, his biceps bulging out of his shirt..damn! I grin when I realise Jason isn't doing anything to converse with her..
"Jason why.."
She begins but the ringing of her phone stops her and she turns away from us to answer the call.. As soon as she turns, Jason sighs, turns to me and pulls me away with him.
"Let's get away from that psycho"
I grin.
Good riddance.
When we get back to the waiting room, he let's go off me and sighs.
"Who's she?"
I ask and he runs his fingers through his hair.
"Her name's Sarah and she's the lady i..."
"Jason!"
I groan when for the third time today, our conversation is interrupted.
I really want to know what's going on and why he thinks she's Sarah.
"Doctor"
Jason nods turning to the doctor who was approaching us.
"She's stable now but she's still unconscious"
he answers
"Why is that so?"
He asks looking worried and I can't help but admire the man who loves my daughter like his very own.
"You should know that Mr Michaels"
the doctor answers with an edge In his tone and I have a feeling he's trying not to explode from anger.
****
JASON'S POV
I sigh.
"I'm sorry Frank.
All episodes of this story can be found here >> https://www.ebonystory.com/story/forgetting-you
. I.."
"Being sorry solves nothing in this case Jason. You know that"
he cuts in and I sigh again.
I guess I know why he's mad.
It's because Olivia wasn't supposed to go unconscious.
But thanks to my stupid anger, I let it cloud my thinking that I stupidly gave Olivia a CPR when I wasn't supposed to.
Yeah! It was Stupid, I know.
And that act caused her condition to worsen.
I feel like sh-t right now.
I never do anything right when I'm angry and that's why I don't like to get angry often..
"That wrong move of yours could have caused her her life. She's still a child and her organs aren't as developed and strong to be immune to certain things like we adults. Never try to treat someone when you're nervous or angry because when it comes to treating person, a tiny overdose could result in death that's why we doctors are trained to be calm at all times else patients will be dying by our hands every day!"
He almost yells and I don't say a word because I get it.
That simple mistake could have killed Olivia.. Realising my hesitation, I hear Frank sigh deeply. "I'm sorry for speaking that way it's just..".
"No. I get it. I take the blame"
I cut in.
"You can go in. She should be awake any moment from now"
he tells me and I nod turning to Hailey.
"Come let's go in"
I beckon to her and take her hand.
She chews on her lips, something I've come to realise she does a lot when she's nervous.
She follows me nevertheless and we enter to find the room decorated with flowers, balloons of different shapes and colours and a huge box of candy on the side table.. My mother was seated by the bed, feeding her soup.. I wonder where they got the soup and flowers under such short time.
Alex was singing their ridiculous sponge Bob song and she would immediately swallow her soup and and reply.
I smile when I see Hailey smiling at the scene.
As if realising my presence, Olivia's head snaps in my direction and she grins immediately..
"Daddy"
she calls out in a small voice, stretching out both arms towards me..I walk over to the bed as my mother gets up and gather her small frame into my chest, stroking her messed up hair which I put so much effort into fixing.
"Hey baby.. How are you?"
I ask
"I want to go home"
she whines nuzzling my chest.
"Very soon honey okay?"
She shakes her head stubbornly and I groan.
"I want ice cream"
she says pulling away..
"No baby. Look.."
"no! Ice cream!"
She chants. This girl got attitude issues.
"It's okay. I'll go get the ice cream"
Hailey cuts in and Olivia smiles at her. I stare at her.
"What do you say to aunty?"
"Thank you!"
She says.
"You're welcome sweetie"
Hailey smiles before walking out the door.
****
Hailey makes her way out of the hospital to find an ice cream vendor when she spots three men all suited up in black from a distance, crossing the road towards where she stood at the other side of the road.
One of them turns and Hailey gasps when she realises him immediately.
Without thinking, she turns and runs back into the hospital.
****
JASON'S POV
I chuckle as Olivia pulls on my hair and giggles.
The door suddenly bursts open and Hailey runs in, fear written all over her face..
"Boss, they're... here"
she stammers.
Alex and mother glance at each other then at me.. Confusion overtakes my senses as I stare at her quivering in immense fear.. Boss.. Here.. Her words ring in my ear continuously and my eyes widen as realisation hits me.
Sh-t! Sh-t!. I spring up from the bed..
"Alex. Get doctor Frank, and ask him to take you out through the back door. Quick!!"
"Jason."
"Mother not now. Leave!!! Please! Take Olivia and get out through the backdoor!"
I yell My mother nods quickly and carries Olivia as they rush out.
"He will never leave me alone. Go Jason. I don't want you to get hurt. Leave!"
She begins to ramble and I shake her vigorously.
"Hailey! Relax. Relax. Do you trust me?"
"With my life"
she answers and I smile.
"Come with me.

Read " Unattainable Perfection " by the same author ( eliza )

. I'll protect you"
I take her hand and rush out, randomly asking the nurses for the changing room.
I glance towards the main entrance to see three men in suit walking towards the reception.. Sh-t! Sh-t!. I drag Hailey into the changing room.
****
HAILEY'S POV
"I knew it, I knew he had someone follow me. My boss would never send me out of the mansion without putting a spy on my tail"
i ramble in fear but Jason doesn't respond as I see him go through the various nurse attire and overalls on the shelves.
Finding a wig, he comes to me, release my braids and fixes the wig on my head, hiding my braids beneath it.
"Don't let them hurt you too please. I can explain to them that I didn't try to escape."
"I'll take care of you Hails. We're friends right?"
He asks and I nod hugging him. Friends.
I like that.
"Open the door!!!"
A deep voice booms from behind the door and I stiffen.
"Quiet. Don't make a sound"
he tells me and I hold on tighter to him as I hear shuffling behind he like he's searching for something.
The knocking on the door grows louder and I know they're going to break it down any second and so only one thought comes into mind.. I reach into my bra and pull out a very tiny diary.
I stare at it.. It's my diary of redemption.
Why?
Because all these years, I've been writing Hank's secrets about his c-caine dealings in coded words in this diary.
Anyone who's able to decode it will understand. It contains places where all evidences of my boss' dirty secrets are kept,his secret meetings, dealings and all the people he has murdered, how, where and when.
Practically, Anyone who reads my diary will be holding the greatest weapon to defeat my boss and his empire.
I wrote it hoping I'd get to use it one day and today is that day.
With a deep sigh, I slip my diary into Jason's back pocket as the knocking grows louder.
Oil Company Scholarships
Shell Nigeria Scholarship Awards/NNPC/SNEPCo National University Scholarship 2019 NNPC/Eroton JV Undergraduate Scholarship Scheme 2019-2020 PTDF Scholarship - All you need to know 20 How To Study Abroad Frequently Asked Questions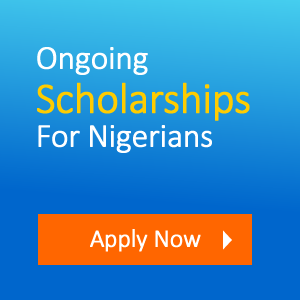 Ebonystory.com
Views (3013)
Likes (19)
Comments (9)
Rating (4.38)