Happy Never After - Episode 9
See all episodes here »
The next morning, she was awoken by the sound of noises in the house.
She looked beside her and noticed that Daniel's space was empty.
She stood up and walked out of the room in her nightgown.
When she finally got out, she was surprised to see several men bringing things out from the room she had discovered the other night.
Daniel was with them.
"Honey, what is going on?"
she asked, rubbing her sleepy eyes.
"I thought they should pack all these stuffs, we do not need them,"
he replied, smiling and drawing her closer.
"Besides, I do not want you to start feeling uncomfortable with all these stuffs."
"But I wasn't uncomfortable,"
she replied, surprised that they hadn't even talked about it before he did it.
"Yes, but I feel safer knowing none of Hannah's things is still here. Once they are all gone, I will be happy,"
he said . She sighed and nodded.
"No problem, it is your house, you can do anything you want with it, but what if Hannah wants them?"
"No, she wouldn't. I was told she died so every of her things can go to charity."
Alicia gasped.
"Wow! That is really serious,"
she said, watching as the last man came with the walkie-talkie.
"Is that everything?" Daniel asked and the man nodded.
"Are they going with that too?"
asked Alicia.
"Of course
All episodes of this story can be found here >> https://www.ebonystory.com/story/happy-never-after
. Do you need it?"
asked Daniel.
"No,"
she quickly replied.
"What will I need it for? They can go away with it."
The man nodded and left. Some minutes later, they watched as the van was driven out of the compound.
"Now that Hannah's properties are gone, I can relax,"
Daniel said kissing her earlobes.
"What do you say about us taking a shower together?"
he asked and she smiled.
"Go ahead, I shall join you."
"Good. After this, we are going out, there is a place I want us to visit,"
he said as he walked back into the house.
Alicia said nothing but watched as the gate closed by itself.
Everything had been so strange but with those things gone, she hoped things would return back to normal and she could finally enjoy her happy ever after
**
FLASHBACK
She waited at the waiting room, hoping that Fabian would at least find time to talk to her. It has been several days since they slept together and he had overheard what she said. They haven't talked since then and he had also not tried to even reach out to her. She had been trying to find time to speak to him, but each time, he was always either in the E.R or some other place. She really felt bad about what happened and she desperately wanted to make amends. Besides, she couldn't remember whatever they had discussed before the event happened, but whatever it was, it helped her in the next meeting and she got her project back. She felt she owed him and until she speaks to him, she knew she would never be relieved. She saw her sister walk in with a file.
"Lydia, hey,"
she said, standing up.
Lydia rolled her eyes on seeing her.
"What do you want, Alicia?"
"Please, can you convince Fabian to please talk to me?"
Lydia thought for a while and then shrugged.
"Why would I do that? Why do you want to talk to him? You want to further embarrass him right? HE is not your type."
Alicia knew she deserved that but she was actually prepared for this.
"Lydia, I am your older sister and you need to support me. I know I did terrible things but please, I want to make amends. Help me."
Lydia sighed and rolled her eyes.
"I will talk to him, wait here."
Alicia smiled and nodded while Lydia disappeared but didn't return till the next twenty minutes, but without Fabian.
"Where is he?"
she asked, frowning.
"He is busy,"
Lydia replied. Alicia inhaled. "Really?"
As they were talking, Fabian walked out to meet them. He didn't look all smiles as he used to.
He looked more handsome, his hair was shiny and his lips seemed even pinker. Why did he look so fine all of a sudden.
"Well, I will excuse you two,"
Lydia said and walked away. Alicia stood up, trying to smile as hard as she could.
"Hi," she said to him.
"Hello," he replied, not returning her smile. Well, she deserved that. Now, how would she start.
"Urm, I just want to say, thank you for the other day.

Read " Broken-Broken " by the same author ( Tobi Loba )

. You see, I don't know what you said to me that day but I used it as a pitch in my meeting and I got my project back,"
she babbled, sweating while at it. He nodded, with primed lips and brows deeply furrowed.
"Wow, congrats,"
he replied.
"I've been coming several times and I've been wanting to tell you."
"I got it. Sorry, I was busy,"
he replied.
She nodded again.
She should apologise and all but people around there were looking at her and she didn't even know how to start.
"Are you a bit free, can we get a drink or something?"
she asked with all the courage she could muster, pleading in her mind that he should say yes, the torture was much already.
"Well, I am going to pass on that, Alicia. Take care,"
he said, walking away.
"Okay," she replied, looking at him and wishing the floor could just open and swallow her..
**
"Baby, are you dressed? Why are you standing there looking at the mirror?"
asked Daniel behind her. Immediately, Alicia snapped out of her thoughts. She smiled and picked up her bag. "Yes darling, I am ready." Hand in hand, they both walked out of the house. Daniel wanted them to have breakfast in a restaurant close to the area. She was happy, she needed some time out. ** SORRY GUYS, POWER ISSUE. NOW, DO YOU THINK FABIAN IS BEING TOO COLD? LOL, I THINK ALICIA DESERVED IT, IF I WAS THE ONE I WOULD HAVE PROLLY DONE WORSE..LOL,..WHAT YOU HAVE DONE IF YOU WERE FABIAN>
Oil Company Scholarships
Shell Nigeria Scholarship Awards/NNPC/SNEPCo National University Scholarship 2019 NNPC/Eroton JV Undergraduate Scholarship Scheme 2019-2020 PTDF Scholarship - All you need to know 20 How To Study Abroad Frequently Asked Questions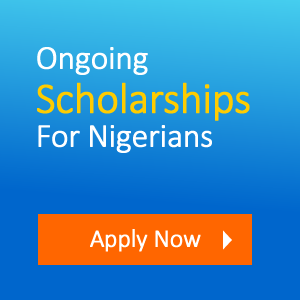 Ebonystory.com
Views (2313)
Likes (14)
Comments (7)
Rating (4.22)