Happy Never After - Episode 10
See all episodes here »
The restaurant was expensively built. It was located by the side of the road, but there were no houses around, just filling stations. Still, there were people eating, most of whom she believed were travelers and who had to stop to eat.
"Anyone who came up with this idea of setting up a restaurant here, is a genius," she said as she ate her chicken.
Daniel smiled. "Yea . I thought as much too, when I came here," he replied.
"You still never told me why you bought that house?" she asked him.
"I told you it was for us."
"For our honey moon, right?" she asked but he leaned forward, lifted her hand and kissed her fingers one after the other.
"Do you like the house?"
She nodded. "Of course. I do."
"So, what about if we make it our home?"
This got her by surprise. "You cannot be serious, Daniel."
He raised his brows. "Why would you say that?"
"We are far from the rest of the world. Besides, I need to work."
"I can set you up, here. Build a supermarket for travelers around this place or set up something you would like."
She smiled. "Daniel, I cannot be so far away from my friends and my people."
"We are married, babe
All episodes of this story can be found here >> https://www.ebonystory.com/story/happy-never-after
. It is for better for worse. For us to leave our family and to cling together, would you like me to play the video for you?"
She was beginning to lose her appetite. "I got that but we can't just abandon everyone."
"We can always go visiting, babe. What is the matter? Can't you just leave everyone and be with me?"
"I can't!" she snapped all of a sudden, drawing attention. Then she calmed down. "I'm sorry for snapping like that but I can't."
"Why not?"
"Because, I have family, I have people, unlike you!"
Now, she knew she had said too much. She could see the hurt flash across his face as he dropped her hand and leaned back.
"I'm sorry, I need to use the bathroom," she said and stood up. She met a guard who directed her to the ladies room.
When she entered and closed the door behind her, she sighed. She shouldn't have said that but things were just happening so fast and she couldn't even understand. First, the stranger knocking at the gate, the strange work he had to leave for, the strange walkie-talkie, and now, he wanted her to live here forever where she was losing her mind. She just couldn't or maybe she was just overreacting...
FLASHBACK
That night, before she slept, she talked with Camil on the phone. Faith had travelled again and Lydia was sleeping in her room.
"So, he gave you a cold shoulder?" asked Camil.
"Yes, he did, Camil."
"But, you shouldn't be angry about that. You wounded his pride and now he is just reciprocating."
"What do I do, Camil? I'm feeling so bad and so…horny again."
Camil laughed. "Damn girl! You want more of the sausage, you need to go crawling back."
"If only he would talk to me," she said. "Lydia is making the whole thing a big issue. She is solidly behind him, I do not know how to make this right."
"She is your sister, be genuined. Look, I gotta sleep girl, goodnight."
She sighed and ended the call.
The next day, when she got her break at work, she found herself back at the hospital. She saw her sister at the reception.
"Hey sis," said Lydia. "I don't think you have an appointment today."
Alicia inhaled. "Lydia, I know I deserve everything you are doing but please, I am so sorry. I need to make things right. We are sisters, okay? Please, give me another chance."
Lydia smiled and nodded. "Well then. You are forgiven so why are you here?"
"Is Fabian around?"
"No, he went on a date," Lydia replied and Alicia felt something stab her heart. Still she smiled.
"Really, wow," she said, looking around. "Okay."
Lydia laughed aloud. "That is not okay. I know you are not okay with that. Oh, here he comes."
Alicia turned around and saw Fabian in his white jacket, his stethoscope hung around his shoulders and he wore a pair of silver glasses which added to his striking features. Why was he looking better these days?
He didn't look surprised to see her.
"Hi, Fabian?" she said, walking up to him.
"Oh, hello Alicia, have a nice day," he replied and was about to by-pass her but she stopped him, putting a hand to his chest.
"Fabian, what I said was wrong. It was terrible and I am so sorry. I am a terrible person and I want us to start afresh. Let me know you while you get to know me…"
He smiled. "You have to make it up to me. Dinner at 7, tonight?" he asked and she nodded.
The date had ended so well that they had gone another two rounds at her place….she loved every part of him…she loved how he touched her. He knew what to do and what spot to take and how to take it…she has never felt so alive in days…and that was how they started their relationship…
**
She inhaled and walked out of the bathroom. Daniel sat at the table. checking his wristwatch. When he saw her, he looked relieved and stood up.
Just as she tried to apologise, he pulled her closer and kissed her passionately, taking all of her breath away. When he finally released her, she was surprised.
"I was going to apologise to you," she said.
Daniel gave her a dashing smile and kissed her hand. "I should be the one to apologise, my love. You are right.

Read " Fulfilling Wishes " by the same author ( Tobi Loba )

. I should never have asked you to abandon your life for me. I do not have anyone, no family or friends because I spent most of my life traveling around. Told you I'm the only son of my parents and they are both dead. I just love you so much and I want to wake up next to you everyday. But, love is not selfish, I can never ask you to give up everything for me, so your decision is fine by me. I know the last couple of days must have been very suspicious for you, but I assure you, I am a good person and I am going to take care of you and make you happy."
She smiled as she heard all those words. She leaned forward and brought his head closer to her lips.
Minutes later, they were leaving the restaurant and she had just gotten in when a car blared its horn from behind. Daniel turned on the ignition key still….
"Baby, I think someone is horning at you, maybe someone that knows you," Alicia said.
"I doubt that very much," he replied as he pulled the back into reverse but all of a sudden, the man appeared by the window. He looked like Daniel's age mate, except he was fatter and he seemed excited.
"David, I thought that was you. It has been years…." said the man.
"Sorry, you got the wrong person," he said, smiling politely.
"Oh, come on, David. It is me, Lucas, from St Pauls' High School," the man said.
"Sorry, my name is Daniel, thank you."
Alicia watched as the man looked confused but then apologized and left while Daniel drove away.
"What was that about?" she asked.
"Just got mistaken for someone named David, it wouldn't be the first time," he said as he drove away…
Oil Company Scholarships
Shell Nigeria Scholarship Awards/NNPC/SNEPCo National University Scholarship 2019 NNPC/Eroton JV Undergraduate Scholarship Scheme 2019-2020 PTDF Scholarship - All you need to know 20 How To Study Abroad Frequently Asked Questions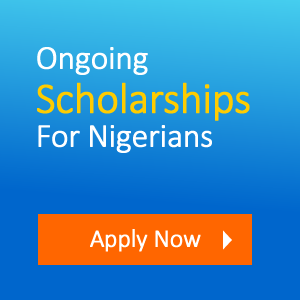 Ebonystory.com
Views (2502)
Likes (17)
Comments (25)
Rating (4.14)