Broken-Broken - Episode 25
Franca to the Rescue
See all episodes here »
@Ajibade Marufa, Happy birthday in arrears, this is dedicated to you! Cheers to you and your twin sis!
LAWRENCE
Lawrence! What is the meaning of this nonsense? You left me in bed to come and chit chat with Scarlett? Is there something going on that I need to know?"
Dafina demanded looking at us suspiciously. My hand was few inches away from Scarlet'seat-I hand't even realized how odd we had sat-
"Urm..baby..I ..urm.."
"Hello Dafina, it's about time you come down to join the party. Where have you been?" Franca shouted from nowhere until she finally came into view, putting her arms around Dafina's shoulder as if they've been friends for quite a while.
"What is going on here?" Dafina asked again, giving off a suspicious look.
"Well, I and Scarlet were on our way out before we ran into this sweet hubby of yours, so we just got lost in our little conversation…hoping you would come out sooner…."
As Franca lied upon lies, I was able to shift my seat slightly from Scarlet who was now faking a friendly smile.
Dafi still seemed a little bit unconvinced but she finally adjusted, shifting Franca's arm off of her and coming to sit in between my laps.
"So, what were you talking about?" She asked, purposely looking at me.
I could tell her Scarlett and I were old friends and we were just catching up but wouldn't she ask why I had kept that away from her all the while and what would I say as a reply?
"Well.." I started…
"We were just talking about some royal weddings and it's already late . Franca, we should get going?' Scarlett, said, standing up.
"Going? Are you guys leaving already?" Dafi asked.
"Yes, we are and we have tarried for too long." Scarlet replied, standing up and taking a bag.
"Well, the, no problem, I hope we will be seeing you at the wedding next month?" Dafi asked again.
"It's in the next two months honey, not next month." I said correcting her.
"Oh sweety, your father called, he wants us to rush things up." She replied, I was so surprised.
"Why would he do that?"
She shrugged
All episodes of this story can be found here >> https://www.ebonystory.com/story/broken-broken
. "It's a good thing." She continued, grinning.

Read " When A Woman Wants.. " by the same author ( Tobi Loba )

. "I can't wait to get married to you love."
I tried my best to hide my surprise and fear, I caught Scarlett looking and me and Franca was a little uneasy.
"So, we shall see you at the wedding, it will hold here in Kenya, I will e0-mail the address to you, hope you especially, Scarlett, can make it…"
All of us were quiet for no reason as we watched Scarlett for a reply. She gave that fake smile that I knew so well and shook her head.
"I'm not making any promises but I will try."
"No problem, so , I guess I will be expecting my gown anytime before next month right?"
"Yea." Franca said, fiddling with some books in her hands. "Okay, happy married life guys." She said quickly, hugging me by surprise and then Dafina. Scarlet looked expressionless, I couldn't tell what was going on in her mind at all.
"Alright. Bye." Franca shouted before, picking her bag. Scarlet on the other hand only smiled as genuinely as she could and was successful in avoiding my gaze.
I and Dafina watched them leave the hotel while the glassy door shut after them.
"Are you coming love?" Dafi asked as she motioned towards the stair case.
I was still glued to that spot. "Yes love." I replied. I could still see as the ladies stopped a cab and hopped in, Scarlet got into the car last. After shutting the door, she was looking at me till the car zoomed off.
I sighed. I was so stupid, I could have gotten a number or an address. I knew my life would never be the same again until I see her ….but first I needed to rake at my father.
I dipped my hands in my pocket and brought out my phone, it was accompanied by a torn piece of paper.
I was confused, then I remembered Franca has hurriedly hugged me as someone tampered with my pocket…turning the piece of paper around I could see a phone number and the address to Scarlet's World Fashion Insititue.
"Oh! Franca! I just love you!
Get monthy fixed regularly paid money as salary, a fully paid tuition fees at duration of the study, a paid residence which you will occupy for your study period. All these are offered by MasterCard Foundation Scholarship Program 2019.
Get more info and apply here
NNPC/Mobil Undergraduate Scholarship 2019-2020. Apply Here Free
NNPC/NAOC/OANDO Joint Venture Undergraduate Scholarships for Nigerian Students 2019. Apply Here Free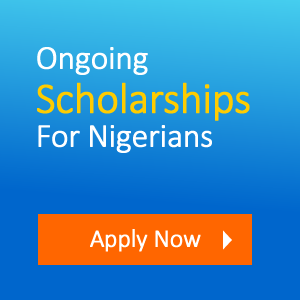 Ebonystory.com
Views (21068)
Likes (23)
Comments (31)
Rating (4.38)