Broken-Broken - Episode 28
Forgiveness?
See all episodes here »
SCARLETT
Spreading majestic sun risein a pinkish glow, its ray warmed my skin-like kisses from the divine. this morning was so beautiful like the past few days....
my wedding gown which was now ready-made, was in the glassy closet, i could see it from where i lay...don't worry, countdown to the day i would wear you---
Franca was more than happy for me when i told her all, she was so proud of me, ofcourse, she would be the one who would give me away on my wedding day which would come up next week....
Atieno finally understood everything, she was only looking out for me, she would be my chief bride's maid while Selina would be the little bride..the two were already planning towards my bachelorette party....
The newspaper lies on the table-about my brokeup marriage with Mark-and my sudden wedding to a childhood sweetheart..below was a picture of myself and Lawrence ….i smiled…it was now in the open, Mark was happy for me and the public announcement didn't affect my reputation at all, infact, it boosted my fame.
I could hear movement in the kitchen. I knew Lawrence was up..he was definitely getting us some coffee as he's been doing for the past few days since he's been here.
I was naked, so I gathered the blanket around my chest and climbed down from the bed that we've both been sharing.
I walked quietly to the kitchen with the intention of giving him a shock.-but he turned around so quickly , giving me a fright while we both burst int laughter.
"You should know im used to you now, you can't give me a fright." He said as he drew me closer and gathered me in his arms.
"Did you sleep fine darling?"
I nodded . "Yea
All episodes of this story can be found here >> https://www.ebonystory.com/story/broken-broken
. I'm getting used to your occasional snoring?" I teased.
"I told you it's singing through the nose, its not snoring." We both laughed at that.
He handed me a cup of coffee.
"So, any plan for today?" I asked further.
"Yea, i need to call my father, he's giving me too much problem."
I chuckled. "Alright then."
"Hold on…" He said as his phone rang. "He's the one calling." He rolled his eyes, kissed me on the lips playfully as he picked the call, putting it on loudspeaker.
It was a bit unclear at first-
"Hello Dad."
"Lawrence,what is the meaning of this nonsense? I need you to come back this moment? What is the meaning of this rubbish I read about you with some girl getting married. Does she know you have a fiancé? Do you want to ruin my business? Is this the plan we had? If you do not come back today, forget your inheritance and don't ever let me set my eyes on you again."
Lawrence smiled and kissed me further….
"Hello, Lawrence are you there?"
"Oh daddy, I am here." He said, pulling away slightly. "Im so sorry, I was busy kissing the love of my life, what were you saying again?"
I chuckled at his response.
"Are you crazy? Don't you know you are putting my business at risk? If Dafinas father hear of it, do you know what that could mean to my business?"
Lawrence shook his head. "Hello daddy, I don't care what happens to your business, you married that woman and if her daughters pose problem for your business, that is your problem. You have never been a good father so I believe that's Karma for you. I am not coming back to your shitty company. Never call me again and tell Dafina that I said, sorry but im not sorry. Goodbye." Then he ended the call.
I smiled and put down my tea.
"I love your Francis."
He smiled and kissed me on the neck. "I love you too, beauty.

Read " Dance With Me " by the same author ( Tobi Loba )

. You have a photoshoot you know, by the way I just signed up for a law school here in Nairobi…."
I gasped excitedly.
"Wow! I'm so happy love."
"Yea, I can be your private lawyer for your firm and for other firms too. It's a course I've always wanted plus, working with my father earned me a lot of money for that little time so I will use it to develop myself."
"That's really beautiful." I said again, putting my arms around him.
"So ,about the stuff we spoke about last night?" Lawrence began-we had talked about my mother and the honorable. "Baby, I don't want you to revenge anything, I want you to leave their punishment into God's hands---he alone can punish severely, you already have all you need. A loving fiancé, a good job, your life is good….leave them, they will meet their punishment. Just forgive them, you never know, maybe those are the things you needed to make you a star…"
I inhaled deeply as he kissed my forehead after saying everything he said.
"You don't understand baby..i can't forgive ….."
"Yes you can. You can do anything…"
I closed my eyes as I began to recount all those bad memories….
"Don't do that…. …think of the life we can have together…think of your work, your achievement…" Then he leaned in closer…. "Think of me"
"It's hard baby"
"You can do it…"
I sighed and trying back to hold back the tears. "Ive been broken—once, twice, but now, I am made strong in my brokenness…with you Lawrence."
"That's the spirit." Lawrence commented.
With all the energy in me, I stated-"I forgive the both of them."
"So I guess there is no problem if we go see your mother , right? Atleast, let her know that you made it inspite of her wickedness to you and that you forgive her even though she didn't deserve it."
I smiled. "I can't wait baby. I need my mother to see I am not a scar…I am a star!"
"That's my baby."
**** **** **
OYA MAKE UNNA CLEAR ROAD O! WE ARE GOING BACK TO NIGERIA O..LET'S GO SEE THIS WOMAN AND I CAN TOTALLY IMAGINE HOW SHE WOULD LOOK WHEN SHE SEES HER DAUGHTER....HAHAH!
Get monthy fixed regularly paid money as salary, a fully paid tuition fees at duration of the study, a paid residence which you will occupy for your study period. All these are offered by MasterCard Foundation Scholarship Program 2019.
Get more info and apply here
NNPC/Mobil Undergraduate Scholarship 2019-2020. Apply Here Free
NNPC/NAOC/OANDO Joint Venture Undergraduate Scholarships for Nigerian Students 2019. Apply Here Free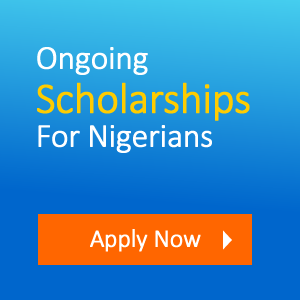 Ebonystory.com
Views (20767)
Likes (22)
Comments (56)
Rating (4.6)