My Mistake - Episode 11
See all episodes here »
It was kept low, just like Fadeel wanted it. Most of his friends didn't know, nor did he invite them___to him, inviting his friends and letting them see Aysha is a disgrace to him. Aysha isn't his type, nor the type of wife he wanted marrying. He'll keep things low until he met his type___that's when he'll have a grand wedding.
Aysha was conveyed to her house in the night. She was way too happy to care that Fa'izah was sad and that Fadeel and Amirah were exchanging weird glances throughout the time the reception was going on . What more could she want after getting Fadeel? She wondered.
If only she knew what was waiting for her, she wouldn't have been that happy. At around 9:00pm, Fadeel stepped into the house his dad gave him. His dad did not only gave him a house, but also gave him two car keys, and also gave him one of his companies, all because he was happy Fadeel agreed to the marriage with open arms..
Aysha was seated in the middle of their king sized bed, a black veil was used to cover her head. Seated by her side was Amirah and Fa'izah who they both ignored and kept talking between their selves. It was after hearing Fadeel's salaam that they kept quiet.
"Welcome Yaya" Fa'izah greeted as soon as she saw her brother. "Yaya Muhammad, you came too?" She asked clearly shocked
All episodes of this story can be found here >> https://www.ebonystory.com/story/my-mistake
. She remembered how he acted when he get to know about Fadeel's and Aysha wedding___she never thought he'll attend it talk more of escorting Fadeel.
"Thank you Kiddo. How have you been? And stress?" Muhammad asked, smiling.
"We thank God Yaya. Thank you for coming."
"I only came because of you and Aysha___not because of this dumb brother of yours."
"Hey! I'm not dumb okay?" Fadeel said, smacking his friend.
"Of course you are. Amarya ya gajiya?"
"Alhamdulillah" Aysha replied getting shy all of the sudden, remembering how she acted when he proposed to her.
"May Allah bless your union."
"Amin." She replied.
"I'll get going. Want me to drop you?" He asked gesturing towards Fa'izah.
"Yes Yaya, thank you." She stood up, picking up her veil and putting back her shoes.
"Goodbye Yaya, Aysha take care."
"I will. Thank you."
"Aren't you going home now?" Fa'izah asked Amirah.
"Don't worry, i can take care of myself Miss."
"Ohh, okay. Goodbye everyone." And they left, while Amirah adjusted her sitting position and talked with the newly weds___also joining them in eating their chicken.
"Guess I'll take my leave now.

Read " My Priceless Jewel " by the same author ( Murjanatu Alkali )

. You both should take care okay?"
"Thank you Amirah, i owe you lots and i hope i can repay you sometimes. Thank you very much for everything" she hugged her tightly.
"Shhh, don't worry. What are friends for? You deserve it. Let me get going__its getting late."
"I'll see her off." Fadeel said as he kissed Aysha on her forehead "take care before i get back."
"Sure. I will" she replied blushing.
Fadeel and Amirah left and he drove her off.
"You looked so happy, don't tell me you've already fallen in love with her."
"What? No. I'm just good with acting."
"I see" she replied, interwining their hands together. "You look so handsome."
"And you look beautiful too." He parked outside their Amirah's house and she stepped out, she went over to his side and kissed his lips before pulling back.
"Don't forget our plan."
"I won't. Take care."
*
Aysha took a quick shower and changed into a new night gown. She applied perfume all over her body and sat down on the stool in front of her mirror___waiting for her husband."
"I can see you're all ready." She heard him say as he stepped into the room.
"You're back" she looked at him before quickly looking away and ducking her head down, playing with her fingers.
"I am" he said, hugging her from behind "you look cute, i can't wait" he kissed the crook of her neck before trailing soft kisses along her jaw.
"Uhmn____aren't we going to pray?"
"No, don't worry about that." He replied still trailing kisses along her jaw.
"Isn't that part of the sunnah?(Acts our prophet did and advised us to also do).
"Really? Forget about it. It doesn't matter."
"Okay then." She replied.
They were already getting heated up when Fadeel suddenly pulled back.
"Wait, i have something for you." He walked up to the bedside drawer and brought out a pill. Pregnancy pill.
"Here, take two of this first."
"What is it for?" she asked taking the pill from him.
"Do you trust me?"
"Yes."
"Then take it without asking, I'll explain later on."
"Okay." And she did___without more questions.
Trouble dey!
Get monthy fixed regularly paid money as salary, a fully paid tuition fees at duration of the study, a paid residence which you will occupy for your study period. All these are offered by MasterCard Foundation Scholarship Program 2019.
Get more info and apply here
NNPC/Mobil Undergraduate Scholarship 2019-2020. Apply Here Free
NNPC/NAOC/OANDO Joint Venture Undergraduate Scholarships for Nigerian Students 2019. Apply Here Free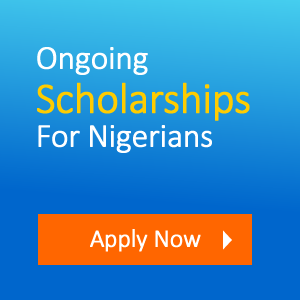 Ebonystory.com
Views (4823)
Likes (12)
Comments (21)
Rating (5)