Hotel Palava - Episode 39
HOTEL PALAVA
See all episodes here »
Mrs Babalola's POV
"I didn't mean to poison her, maybe I did mean to but I had a change of mind"
"What?" He asked in shock. Then it dawned on me that he had no idea and I just managed to confess the whole thing to him.
My heart beat faster and louder that i feared he might hear it.
"Why did you come here?" I asked, looking for a way to avoid the question. "You didn't come out when I came back from work and I just came to check up on you . Mom don't try to change the topic" he shook his head.
"Adesuwa didn't tell you did she?" I asked and he shook his head. "You tried to poison her?" He asked and I clasped my hands in tears.
"I did. I admit it, but I changed my mind. I don't know why but I changed my mind"
"Get you bags ready, you'll be leaving first thing tomorrow morning" he walked out and I followed him.
"Henry please!" I begged.
"Just listen to me"
"Listen to what?" Henry barked at me. "Listen to how you had a change of mind not to poison the woman I love. No, thanks I would rather listen to something else!" He added and I cried.
"I'm sorry" I stomped my feet on the floor.
"I was pushed to do it. Sweetie I'm sorry" I begged and Adesuwa walked out of the room in her nighties.
"What's going on?" She asked and Henry pointed at her
All episodes of this story can be found here >> https://www.ebonystory.com/story/hotel-palava
. "When were you going to tell me she tried poisoning you?" He asked and Adesuwa folded her hands looking at me.
"I wasn't planning on telling you anytime soon" she answered, "Why?"
"Cause she's your mother and I didn't want you to hate her" "I want her to leave first thing tomorrow"
"She's not leaving Henry"
"Give me one reason why I shouldn't kick this woman out right now"
"One reason, she's your mother"
"Adesuwa she's heartless! She almost killed you" he snapped and Adesuwa pulled him close.
"But she didn't, she could have kept quiet and watch me eat that thing to it's side effects but she warned me."
I didn't know why she was begging or why she was supporting me. Could she be on to something? I thought for a moment.
"Henry you can't send her out," she moved close to her whispering something to him.
"What If she tries to kill you again?" I heard him ask, Adesuwa turned to me. She was quiet then Henry left.
I went back in and I continued crying. I knew our relationship that moment had changed. I knew Henry would never trust me, neither will Ade.
I picked up my phone then I made a call to a friend. "Is everything okay?" He asked on hearing my voice, "I need a place to live in for a while"
"What happened to your house?" "It's for someone" "But you said.." "Mind your business Philip"
"Well define a while"
"A month or weeks"
"That would be difficult judging from the fact that most Landlord would not agree unless it's for six months or a year. If they eventually agree, it will be costly"
"I'll take anything"

Henry's POV
I fumed at the thought of Adesuwa's near-poison situation. I couldn't wrap my head around it. I didn't know which I was most infuriated about, the fact that she intended to poison Adesuwa or the fact that Adesuwa hid it from me.
I haven't let my anger show in a very long time, I just couldn't contain this one. The whole thing scared me and I was also irritated by the fact that mom did it.
I demanded that mom leave but Adesuwa came in just in time to beg on her behalf.
"Henry you can't send her out," she moved close to me, "She's changing gradually." She whispered to me, "What If she tries to kill you again?" I asked, Adesuwa turned to me, she obviously didn't have anything to say.
I walked into the room and she followed me in. "She has to leave" I insisted, "Please Henry, how else do you want me to beg you?" She asked, "Should I kneel?" She asked and I busted into tears sitting on the bed.
"Mom is beyond saving. I thought she was..." I paused and she sat down with me now cleaning my tears with her hands. "I can't risk her living with you. What if she kills you someday?"
"She didn't kill me today, when we started this whole plan, you guys gave me hope on who your mom might really be and this days with her has opened my eyes to the possibility that your mom might not be entirely bad"
"She tried to kill you"
"It was just an attempt. It could have been worse. She could have kept quiet and let me eat that food but she didn't, she pushed the spoon off my hands. I'm just as angry as you are baby, but at the same time" she sniffed, "I'm grateful to her for sticking up for what's right. Maybe she's worth saving after all. I believe I can change her"
"Babe I'm scared... I'm scared for your life. I'm sorry for having a mother like her" I said and she hugged me.
****
I left the house the following morning without informing Mom, I went over to Dad's company very early to see him.
"You don't look too happy"
"Mom cannot continue living with us again, I don't know how you're going to do it, just let her back in"
"She's having issues with Adesuwa right?"
"Not exactly" I answered taking my seat.
"You won't believe what Mom did yesterday, I'm even ashamed of her." "What?"
"She poisoned Adesuwa's food"
"I hope Adesuwa's fine" Dad asked, worried.
"She told Adesuwa not to eat the food just before she did" "I can't believe this" Dad exclaimed and I tightened my fist.
"I'm ashamed to even call her mother. She's a shame to motherhood, why would you attempt to take someone's life"
"I'll call her back, I guess the plan is off then" Dad said and I remembered what Adesuwa said about trying to change her.
"Adesuwa doesn't want her to leave, she thinks she can singlehandedly save Mom from being a monster." I paused cleaning my tears.
"How is she going to do that?" Dad asked and I shrugged.
"I'm sorry" he apologized afterwards. He was beginning to feel guilty.
"I never thought she could...."
"Your mom is all but a murderer, there are times she would make threats and get angry, she's no murderer. If she was, your sister would have been long dead. We simply agreed that they move elsewhere to avoid conflicts."
Suddenly I remembered about my half- sister. "Don't you think it's high time I meet my sister?" I asked and Dad sighed.
"She's currently running her Masters program in University of Nsukka."
"When do I meet her?"
"We'll fix a day" dad answered and I feigned a smile. "We've not intensively talked about this topic,"
"I understand"
I promise you, the only connection I have to the mother is the fact she had a daughter for me. Incase you're worried about..."
"It's okay Dad... I just have to get used to the idea. It's odd but..."
Deji called me afterwards, he was already in Ekiti. "When did you get there?" "Last night" he answered.
"I screwed up when I saw Lilian and I made her cry again. I can't be doing this to her, it's hurting me." I heard his voice break.
Was Deji about to cry because of a woman?
"I'm just really angry at myself," "What happened?"
"I was happy when i saw her, I really was and we kissed and.... Then I screwed up"
"What did you tell her"
"She thought I came back for her but I told her I came to get her forgiveness, I felt stupid. Mehn I don't know why I keep screwing every thing up. I've been screwing up with dad's company, I'm a mess. I need to get my life back and I don't think I can do that without Lilian."
"Are you trying to say you're in love with Lilian?" I asked and there was a brief silence at the other end.
I heard him sniff, "It's mom, I'll call you back later" he said as though he was whispering then he hung up.
Adesuwa's POV
While I was having breakfast, Mrs. Babalola walked in that morning in a top and a trousers. She passed by then she turned back at me.
"I know I'm the last person you want to talk to right now but how are you feeling?" She asked, "I'm not dead" I answered and she nodded.
"Your drugs, have you taken it?"
"I will after eating, why are you asking?" I looked at her suspiciously. "Has it been switched?"
"No. I just wanted to ask" she answered.
"I'll leave as soon as the house agent finds me a good place. I'm sorry for any inconveniences I may have caused" she sniffled leaving.
"Why did you do it?" I turned back at her and she turned to me.
"Cause I took someone's advise to get you out of the way. I've never killed anyone in my life, at least not intentionally" she added and I wondered what she meant by it.
"But you hated me so much that you wanted me dead. That's just what it means" I shrugged and she nodded.
"I thought I hated you until I saw you raise that spoon up then I had doubts. You haven't done me any wrong, why should I have blood in my hands for something that isn't worth it?" She asked.
"And you didn't do it so Henry could go back to Jummy Coker" I answered and she scoffed.
"Festus is a parasite! He has insulted me more than twice and I have endured his shit for so long. There's no way I could have... That day I spoke to him marked the end of any business with him. Festus has always been a vengeful person, I knew he would be looking for a way to ruin me and my family. I don't want anything to do with him again."
"Why didn't you kill me?"
"For a lot of reasons, because I saw you in me, i realized we have a lot in common and for all the good moments we've spoken, I felt like there could be a good relationship between us. You're not a bad person, even if I refused seeing it, from the very moment you rejected that money from me, I had doubts about you. And these days, I realized you truly make my son happy and how sad Henry would feel if anything happens to you. That was why I changed my mind"
"I was also jealous of you"
"Why?"
"You have everyone's love, just one look at you and my husband likes you, Tosin likes you, she doesn't even like me her own mother" She busted into tears. "She thinks I don't realize it, i do realize it, you make Henry happy and I'm just so jealous how things could be good for you and I'm the one everyone tags as a witch."
"It's nobody's fault, it your fault"
"How?"
She asked and I took the chance to dump it all on her. I stood up pointing at her.
"Tosin wants to live her life without control, Henry wants the same. Have seen the way you treat your husband and your entire family. It's wrong, if you were my mom, I would have poisoned you a long time ago" I snapped and tears trickled down her eyes.
"My mom was an amazing woman, an example of who every mother should be. She never influenced my choice, a mother supports her children's dreams and aspirations,and a mtmotjer doesn't crush it. The sacrifices mom made to make me happy."
"I've made sacrifices for my children too.

Read " Without Bridges " by the same author ( Essien Eno )

. I swore to give them the best in life"
"What's your definition of best Mrs. Babalola, oh you mean wealthy husbands and prosperous wives, whether or not they're interested in them"
"Mom did the same thing for me and I never complained! Not once! I've always been obedient to my parents, I've never been rebellious, I never went against them. Why does Karma have to pay me back with rebels?" She asked falling on the floor, It looked as though she was too weak to stand.
"Have you eaten since yesterday?" I asked and she sobbed.
"Henry hates me, my whole family hates me, nothing matters anymore" she stood up entering into her room.
I went back to my breakfast and I realized I already lost my appetite.
*****
Aunty Maggie called me afterwards, she wanted to know i would visit her. "Aunty which Kain question be that nah? you know say I no well"
"You never give me address yet now make I visit"
"I go send am"
"Make I come today? I hope say you dey chop eba well as you take like am" she asked and I laughed.
"Today is not a good day"
"Tomorrow nko?"
"I hope oh"
*****
Mrs. Babalola resumed some activities after a while, I didn't know what she was doing, I just wanted to ignore her.
After the house became quiet, I heard banging on the gate. I opened the gate to see Mr Babalola rush in, his car was still parked outside.
"Where's Doyin?" He asked and I shrugged.
"She should be in the room," I answered and he rushed in. "What's going on?" I asked, He seemed worried.
"My wife sent me a message fourty five minutes ago. I know Doyin so well and I have a bad feeling about this. Where's the room?" He asked, I pointed and we walked in together. Love and behold, Mrs. Babalola was hanging from the fan with a side stool pushed to the ground.
"Jesus!!!" I yelled in fear.
Oil Company Scholarships
Shell Nigeria Scholarship Awards/NNPC/SNEPCo National University Scholarship 2019 NNPC/Eroton JV Undergraduate Scholarship Scheme 2019-2020 PTDF Scholarship - All you need to know 20 How To Study Abroad Frequently Asked Questions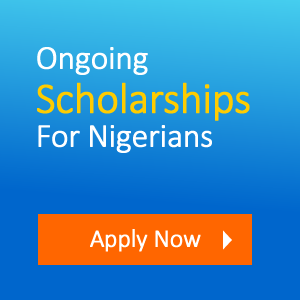 Ebonystory.com
Views (4002)
Likes (14)
Comments (17)
Rating (4.67)