An Arranged Marriage - Episode 35
See all episodes here »
"Why is this part of the house quiet?" I ask as he leads me down the stairs, into what looks like a kitchen.
Looks like because it's different from every other kitchen I know.
For one, it's larger.
"This is my wing, Cash has his own, and so does Linda, and your sisters now" He says in explanation.
I tug on his hand to get him to stop, he does turning to me.
"I didn't say thank you for what you did for my sisters" I say.
"You are my wife, your happiness is my priority" He says.
"Thank you anyway, it was lovely"
"Wait till you see your wedding gift then"
"You got me wedding gift?"
"It's part of the King's custom, a groom gets a bride a wedding gift"He says, continuing our decent down the great stairs.
"Custom?"
"We can trace our linage to an ancient king, hence the name King" He says offhandedly.
Wow, I'm married to royalty.
I open my mouth to ask more about the subject but stop because we've stopped in front of a fridge and it's open, empty.
Kane growls.
"What?" i ask.
"James must think we are going to dine with the rest of the house, he didn't stock my pantry or my fridge" He says.
"Doesn't he normally do that?"
"No, I dine with the remaining part of the house" He says.
"Then we simply have to go get food from there, let me nip upstairs and change" I say, turning to go.
"You are fine, I have to feed you" He says.
"But, we are hardly dressed, yours might be fine but mine..."
"Everyone knows to make themselves scarce from the whole of this house today" He says, not to be deterred he pulls me along with him.
We descend another set of stairs and we cross through a hallway and it's like stepping into anther world, where Kane's Hall had been broody this one was gloomy, it didn't take long to know its Cash.
We cross into any other hall and it's plain as day to see its Linda's.
True to form there's no one around, good because I was beginning to feel self conscious about Kane's black long sleeve that I have on
It might be big but it's not proper attire.
Let's not forget that my husband is shirtless.
We stop in what finally looks like a kitchen and he whips the fridge open, handing out random things.
"Do you want chicken soup? You seemed to like that the other day" He says, bringing out a Tupperware of soup.
"it just needs microwave" He says.
"I will die before then" I say and he smirks, putting the plate of soup into the microwave.
He turns to me, bringing out a tub of ice cream before carrying me and lifting up onto the counter, it's cold beneath my ass.
"We can't eat ice-cream for breakfast" I whisper, having no reason why.
"Technically it's lunch" He says, handing me a spoon.
"What are you gonna eat then?" I ask.
" I don't eat sweets" He says.
I dip the spoon into the ice-cream and bring it to his lips, he narrows his eyes.
"Okay okay" I say, bringing the spoon to my lip and taking a bite.
Wow.
This must be Linda's.
I continue and he watches me eat the sugary confectione in front of me, a little amount plops on my chest and his mouth is there, licking it off.
I shiver.
"Maybe I might need some sweet" He says.
"Ice cream?" I offer.
"No" He answers, before melding our lips, the ice cream is forgotten as my hands tangles in his hair and my legs wraps around his waist.
His hands is going down, delving into my shirt and I shiver as his hands come in contact with bare skin.
"You wanna burn down the house?" A bored voice asks and I gasp, breaking away from Kane to see Cash at the microwave turning it off.
"What are you doing here?"
"I'm in need of some sugar, see that you are my ice-cream sister in law"
The ice cream was his?
"The ice was yours?" I ask, disbelief in my voice.
He does not respond, just brings out the microwaved soup.
My stomach growls.
"Hungry" I mutter and Kane kisses my neck before turning to grab the Tupperware of soup.
"Get James to stock my fridge for the next week" He says and Cash nods, Kane carries me to the dining chair before going back to get the soup.
I kneel on the chair, my elbow on the table as he returns, cash has disappeared.
He hands me a spoon, bending to kiss me as he seats.
"Hey Mrs King" He says, like he is testing the word.
"Hey Mr King" I repeat.
"Jesus" Somebody mutters and I raise my head to see that Cash hasn't disappeared at all, he just went into the pantry.
He has a bowl of cup noodles in his hands, well someone likes junk.
"I give you permission to shoot me if I ever become this sappy" He says to his brother as he places a kettle of water on the stove.
"Are you going to disappear?" Kane asks.
"Is this my kitchen?" He counters.
Well, I take that to be a nod.
Kane ignores him, turns to our dish and dips a spoon it.
I do too, licking the spoon, I raise my head to see him watching me.
"Babe, get this sustenance in you fast, I need sustenance in another form right now" He says and I blush.
"Jesus" Cash mutters again and I see kane throw his spoon at him.
It hits Cash.
Cash gives his brother the middle finger and I giggle.
"Kill me" He says at his brother, throwing a clean spoon at him as the kettle begins to whistle.
He switches off the stove before turning the heated water into the cup of noodles.
He gets fork and OJ from the fridge.
I turn back to my meal, Kane is holding up a chicken drumstick and I take a bite, he wipes my lip as I chew.
I glance back Cash.
"Is there a reason you are eating cup noodles?" Kane asks.
"I have to think" He mutters around a mouthful of the stuff.
"You are gonna die of a heart attack and diabetes, that's what's gonna happen" Linda says as she steps into the kitchen.
Kane growls.
Okay, seems we have to be fast, Kane does not tolerate the extra presence.
"Oh shove it, this is my kitchen, go growl in yours" She says, packing her ass in a stool.
I turn back as Kane gives my hair and tug to see him holding up a fork full of chicken, I take a bite.
"I'm full" I mutter after the fifth bite.
"You sure?" He asks.
"You didn't have any" I say, brushing his hair out of his eyes.
"I'm full baby" He says.
I shake my head.
"Have some more" I say, lifting the spoon, his lips close around it and I hear someone gag.
"Remember to kill me if I ever get like that" Linda whispers loudly at Cash who grunts in affirmation.
"Can I have some of that?" Aroofa's voice asks quietly from the doorway.
I wave a little and usher her forward, Aroos comes into view.
"Oh God, it's a party" Kane says before standing and.. Yes.
All episodes of this story can be found here >> https://www.ebonystory.com/story/an-arranged-marriage
. Sweeping me off my feet.
He hands me the plate of soup and I hold it in my precarious position, a wrong move and it's going to tip.
"No one, no one should breach those doors to my wing for the next two weeks" He says and I hide my face in his neck, I'm mortified.
"Get James to stock my f*cking fridge, have a good day" He says but his voice wishes anything but.
The bark of Cash's laughter echoes after us.
"You didn't have to say it that way, now they know what we are doing" I hiss.
"Babe, they'd be foolish not to know what we are doing" He says simply and I guess he's correct.
Jeez.
AN
Thank you for reading.
Thank you for all the lovely comments yesterday.
I really appreciate and those of you who commented on Facebook, thank you and for my new followers on wattpad.
I promise to not to disappoint
Thank you again!
. .
Read "
Beautiful Mess
" by the same author (
Bebe Ernest
)
Oil Company Scholarships
Shell Nigeria Scholarship Awards/NNPC/SNEPCo National University Scholarship 2019 NNPC/Eroton JV Undergraduate Scholarship Scheme 2019-2020 PTDF Scholarship - All you need to know 20 How To Study Abroad Frequently Asked Questions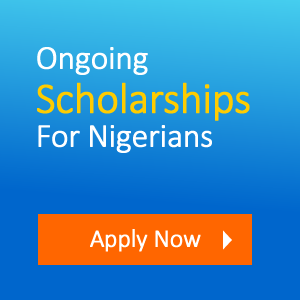 Ebonystory.com
Views (2565)
Likes (14)
Comments (10)
Rating (4.82)