An Arranged Marriage - Episode 36
See all episodes here »
"Tell me again where you are going?" He asks, reclined on the bed, his hair sexy and scattered.
The sheets come up to his waist but I know he's naked underneath.
I come out of the closet and shoot him a look.
"You are not getting dressed" I say.
"I thought you said you wanted to come with?" I ask.
"You standing there in nothing but a bra and pant is not motivating me to get a move on Babe " He says, I lift up the clothes I'm holding.
"Which one do you think is better?" I hold up the white coat and the black.
"Babe, come back to bed, we have lots of time to go to wherever" He says and it's tempting, the look in his eyes swamps me with heat.
"You know you want to, just once? I promise to make it good" He vows and I feel my body moving unconsciously, the clothes getting discarded on the way.
"Yeah that's a good girl, come on" He says, extending a hand, I take it.
I love when he calls me his good girl.
His hands go to my ass, squeezing.
"Babe, it's been three days, haven't gotten my feel of you yet" He says.
"But, I have to go to the bank, make sure everything is okay" I say, I have explained, during our numerous breaks during the course of the week what the deal with the back is.
He understands and promises to help me every way he can.
"We can do that, later, I will be quick, an hour, two tops" He's full of it.
There's no quick with Kane, he takes his sweet time.
"Caspian" I breath against his lips.
"Just an hour Ani" He says before sinking a hand into my hair and kissing me.
****
We go down the stairs three hours later, it's past one already.
Kane had called the bank and they are already on standby, waiting for us.
Perks of being rich? You don't have to wait in queues anymore.
The hand on my back strokes the bare skin of my back.
I shiver..
"Don't do that" I whisper.
"I want to eat you, sink into you and never come out" He whispers in my ear, I'm getting the vibe that Caspian Kane King has a dirty mouth and an even dirtier imagination.
"Don't say things like that" I say.
"You look too good babe" He says and I shiver again.
Well, I guess I look good, I'm dressed to kill.
In a simple leather skirt and a silver crop top, the coat I'm wearing has a kind of opening in the back, you can see my back.
My accessories consist of silver rings, chains and ear rings.
Courtesy of Linda and her clothing line.
I look kickass.
I'm wearing another Chanelle sandals, since I can't wear heels(I'm not with a cane because Kane is with me), this one is brown, with studs, I don't want to look closely, I thinks they are diamonds.
This amount of money, on me? Makes me feel like hyperventilating.
I protested when I saw my new wardrobe, Kane only had to kiss the protest out of me(And do other things.. But..) before I became okay with it.
"You look lovely" I say back to him,and he does, wearing a burgundy suit, Italian loafers, his hair wet from the bath we had, and of course our wedding band.
"Lovely is not a word i want associated with me in a sentence Ani" He says, stopping me with a tug of my hand.
He tilts my chin up and gives me a sound kiss.
I sigh.
"My lipstick must be ruined"
"You look just fine" He says and we step out into a sitting room.
Slouching.
That's the word for the scene in front of me.
There's a movie playing on the TV and in front of it are my sisters and Linda, lying in various stages of laziness.
I thought I was the one on an honeymoon? Why aren't they at work?
Cash is nowhere to be seen.
I glance at my sisters as they look up.
"Well look who decided to make an appearance" Linda mutters.
Aroofa and Aroos giggle.
Anaya looks like she might be a little high.
I raise my brow.
"They are just coming down from a sugar high, don't mind them" A masculine voice says and I turn to the vaguely familiar male.
"Sugar cakes" He says, explaining his earlier statement as he points to the plates on top of the coffee table.
I turn to glance at my sisters and they are trying to pick their lazy bones off the floor.
"I'm sorry I couldn't make it to your wedding Kane, I had a concert" The male says again.
I recognise him then as 'Kevin West, The love child of Selene Matthews and Andreas West, The prince of RnB music and the hottest thing God created this century.'
As narrated by one of my sisters, I don't remember who.
I'm alarmed that my sisters seems to be okay with the fact that they are slouching in front of a musical genius but I needn't have fretted.
They've already made his acquaintance, this is confirmed when Linda speaks.
"Anadia, this is my best friend Kevin, he's been around for two days now, he wanted to congratulate you on your wedding" She says.
"Congrats" The guy says and I nod, sending him a smile, he smiles back
All episodes of this story can be found here >> https://www.ebonystory.com/story/an-arranged-marriage
. Ohmigosh.
I might be a little star strucked, he's so fine.
"Babe, wipe that look off your face" Kane hisses in my ear, his voice laden with jealousy.
"Oh behave, he's a musical genius" I hiss back.
"I'm the richest man on earth, only I deserve that look, and I would really hate it if I have to kill Kevin" He says, obviously familiar with the guy.
"He's friends with my mother, he will kill me though, he means it" Kevin says, reading the look on my face.
"Well, it's nice to meet you" I say.
"You too" He echoes.
"Where are you going?" Anaya queries.
"Bank" I say.
"Eesh Anadia, you shoulda taken at least one week to your self, the bank can wait" Anaya says and I gape.
"What? You look good, you are literally glowing, seems to me that whatever Kane is giving you must be good and you must be getting it steady" She says and I blush.
Ohmigosh!
"Anaya" I retort,Pushing kane out the door.
"We could hear you you know?" Aroofa teases.
"What?" I whisper.
"We could hear you screaming sometimes" She repeats.
I grasp at straws.
"I.. I got scared sometimes" I say and she nods in understanding.
"Must have been one hell of a scare then" she says.
"Seeing as there was accompanied moaning I'm sure you were taken care of in great detail later, jesus this house is big, we shouldn't have been able to hear you, I'm scarred for life" Aroos mummurs and they burst out laughing.
I just want to die of mortification as Kane chuckles and leads me out
"I wasn't that loud was I?"
"Babe" He says simply.
God, I guess I was that loud..
AN
Thanks again!
Leave comments.
Have a good night!
. .
Read "
Salvation (An Arranged Marriage ll)
" by the same author (
Bebe Ernest
)
Oil Company Scholarships
Shell Nigeria Scholarship Awards/NNPC/SNEPCo National University Scholarship 2019 NNPC/Eroton JV Undergraduate Scholarship Scheme 2019-2020 PTDF Scholarship - All you need to know 20 How To Study Abroad Frequently Asked Questions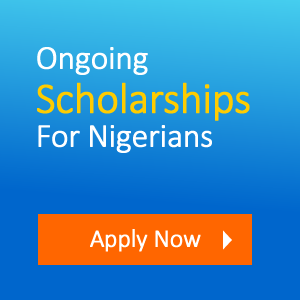 Ebonystory.com
Views (3240)
Likes (14)
Comments (25)
Rating (4.44)